A GOLFER'S PARADISE
For golfers, no vacation destination can compare to Ocean Breeze Nuevo Vallarta. With a stunning course designed by one of the most recognized names in the sport, Greg Norman, this spot also boasts the popular Nayar Course and the incomparable 10-hole, par 3 course, The Lakes. Guests can then go on to enjoy an international golf academy, a charming restaurant, and the longest suspension bridge for golf carts in the world.*
*Some venues are located inside the Vidanta Nuevo Vallarta Resort, next to Ocean Breeze.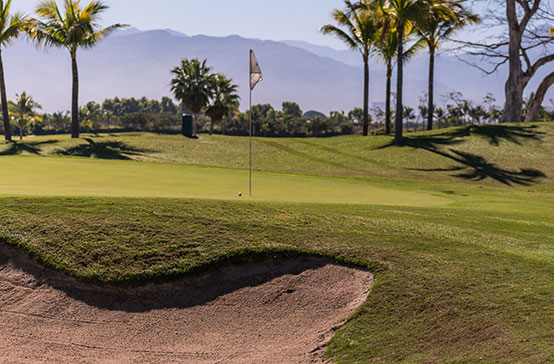 THE NAYAR COURSE
A natural and technical masterpiece, this 18-hole, par 70 course is forgiving to beginners, but is rimmed with seven lakes and 49 strategically placed bunkers that can challenge the most experienced golfers.
Course Details
18 Hole, Par 70
Yards - 6,668
Course Type - Championship
Grass on Greens -Champions Bermuda
Grass on Fairways - Bermuda 419
Bunkers - 49
Lakes - 7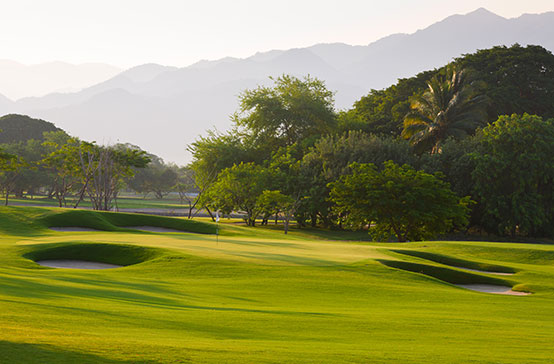 THE NORMAN SIGNATURE COURSE
The 18-hole Norman Signature Course boasts a beautiful and enjoyable layout, which can only be accessed by the Ameca Bridge. This course features wall-to-wall paspalum and challenging shots around the greens.
Course Details
Designer – Greg Norman
18 Hole, Par 73
Yards – 7,326
Course Type - Championship
Grass on Greens – Platinum Paspalum
Grass on Fairways – Platinum Paspalum
Bunkers -88
Lakes - 15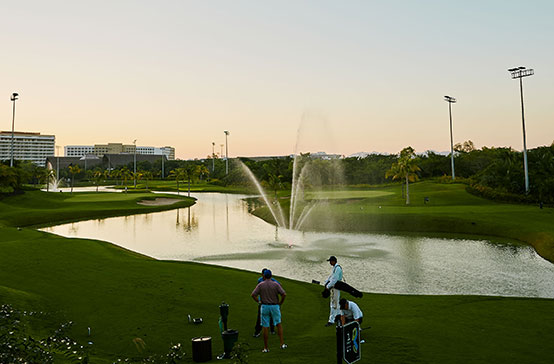 THE LAKES COURSE
The newest addition to the golf offerings for Ocean Breeze Nuevo Vallarta, this beautiful 10 hole, par-3 course showcases views of some of the resort's most beloved landmarks while you play. It's also the region's only lit course, offering play until 11 PM.
Course Details
10 Hole, Par 3
Yards – 886 Blue Tees; 706 White Tees
Course Type – Short Course Executive
Grass on Greens – Platinum Paspalum
Grass on Fairways – Platinum Paspalum
Bunkers - 12
Lakes – 5